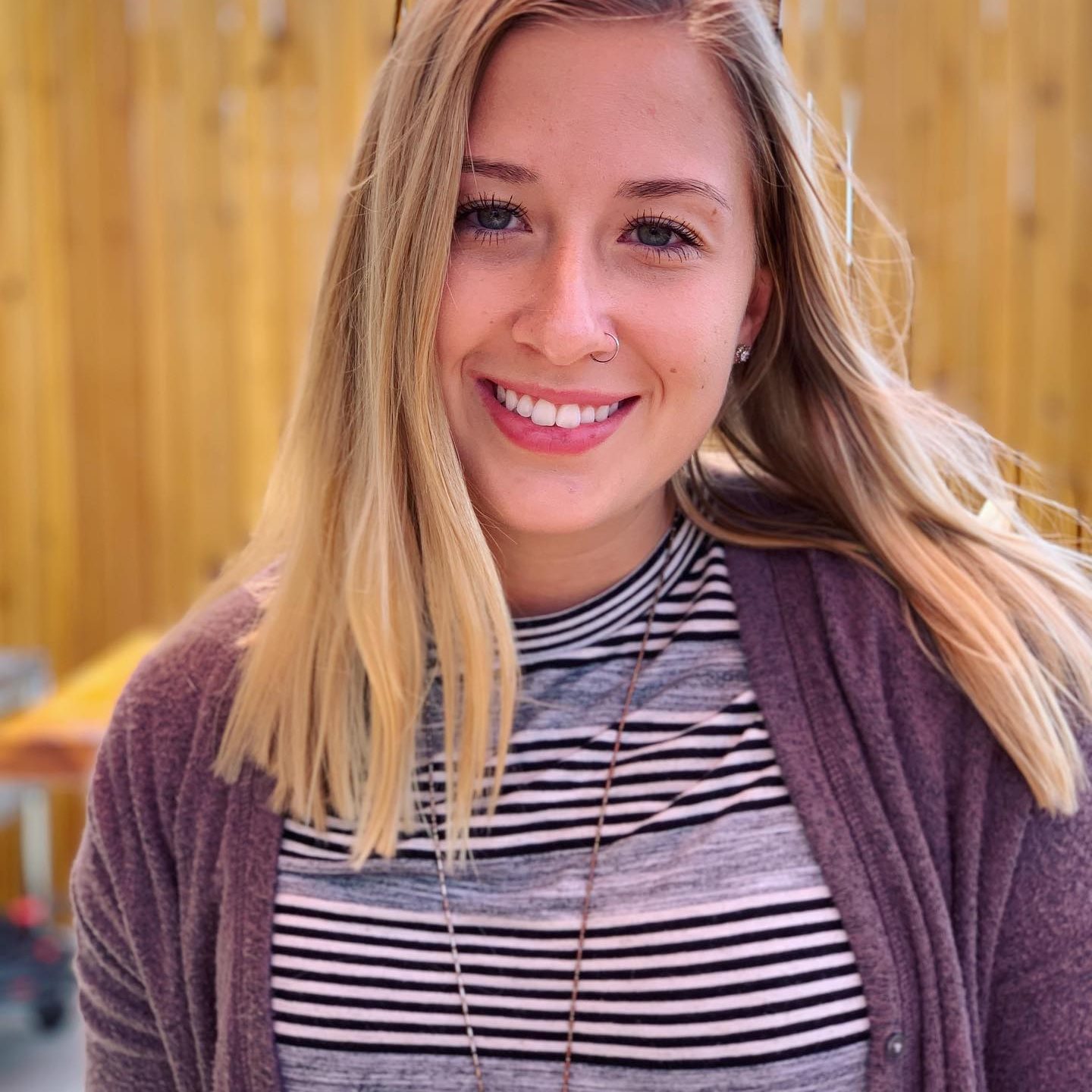 Starbucks
A new feature for Starbucks that allows users to place a future order and set it as reoccurring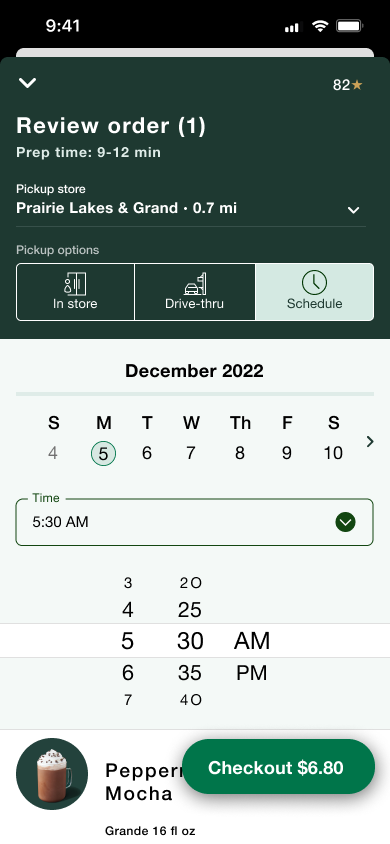 Project Overview
As a part-time Starbucks barista, I have experienced the struggle of trying to keep my head above water to fulfill the never-ending orders while also reducing wait time and ensuring each order is done to the customer's satisfaction. I have also seen first-hand the frustration caused by unexpected wait-times for customers who had placed their drink ahead of time so that they could save time.
A majority of users use the Starbucks app, a tool developed to provide users with the ease of ordering ahead of time while also earning stars for purchases and having the ability to pay through the app. I decided to analyze the app and design a feature to add to its existing software that could further improve baristas' and customer's current needs and goals when it comes to placing orders online.
Timeline: 80 hours
Role: UX Designer
Framework: DesignLab's UX Academy
Area of Interest: UX Research and Interaction Design
*Disclaimer: This is concept work and does not represent Starbucks or any of its products.
User Challenge
As of 2022, over 12.4 million people are using the Starbucks app on a monthly basis. Currently, the app lacks a feature to allow users to schedule a future order or set an order as recurring. When users want to place an order, they need to go to the app each time and in return, end up having to wait for their pick up once in the store. This results in customers getting frustrated due to unexpected wait times and baristas struggling to keep up with the rush of mobile orders placed at peak times.
Outcome
Design a feature in the Starbucks app that allows customers to avoid unexpected wait times for their pick-up orders made through the app and find an easier way to fit ordering through the app into their current routine to make their experience more convenient and time-saving.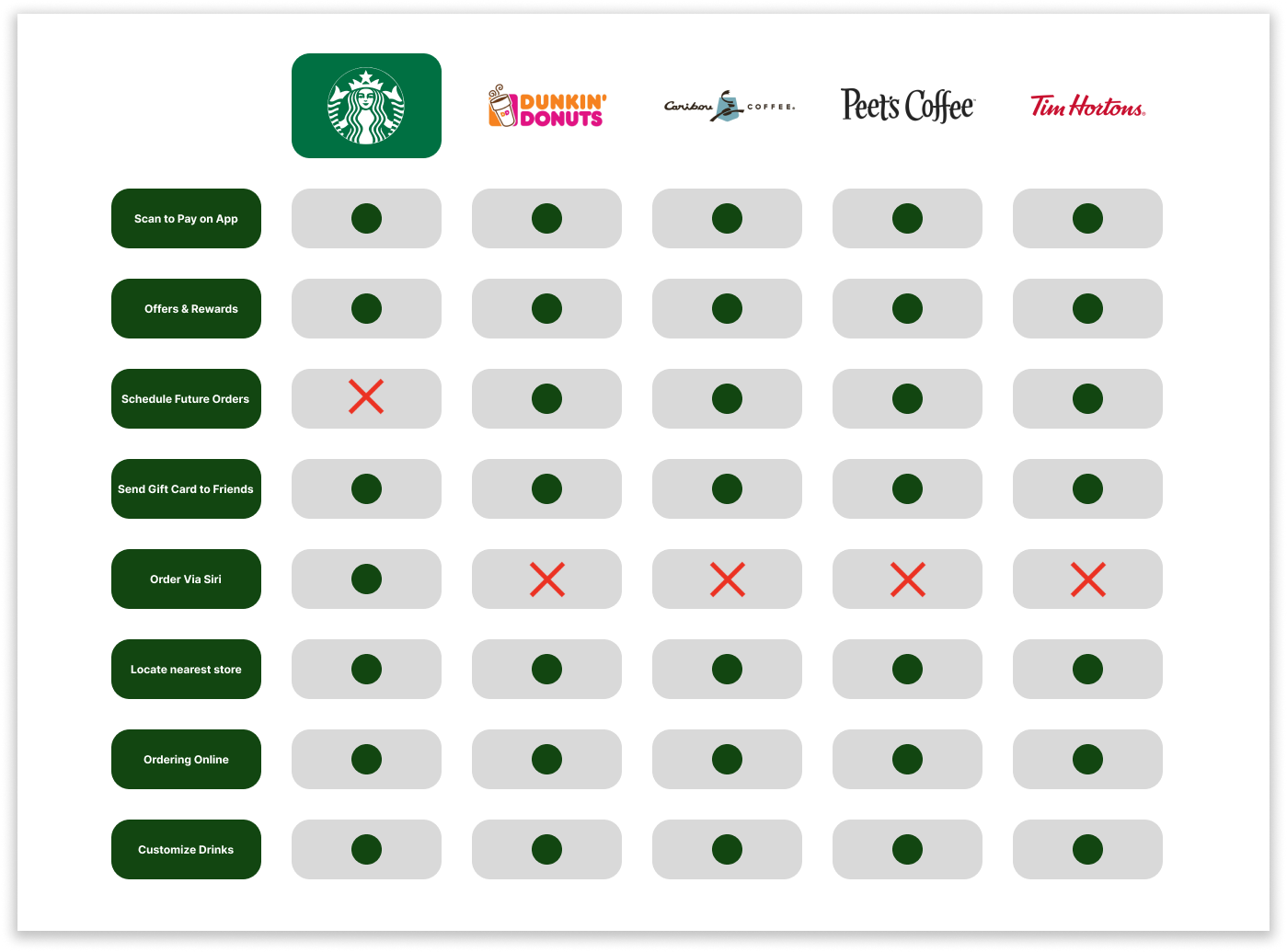 Competitive Analysis
I approached the challenge by performing a competitive analysis to initiate the process. First, I wanted to understand who Starbucks is currently competing against and where they stand in the industry. I compared Dunkin Donuts, Caribou Coffee, Peet's Coffee, and Tim Horton's mobile applications.
Findings
Starbucks limits users' ability to schedule future orders.

All platforms provide customers with various ways of saving time through the app.
User Research
Based on my competitive analysis, I wanted to focus my research on customers' experiences and feelings around placing an order through the Starbucks app, as this appeared to be a feature that is offered by all competitors. Additionally, through my own experience as a Starbucks barista, it's clear that the feature to order online is important for users who want to save time and value convenience.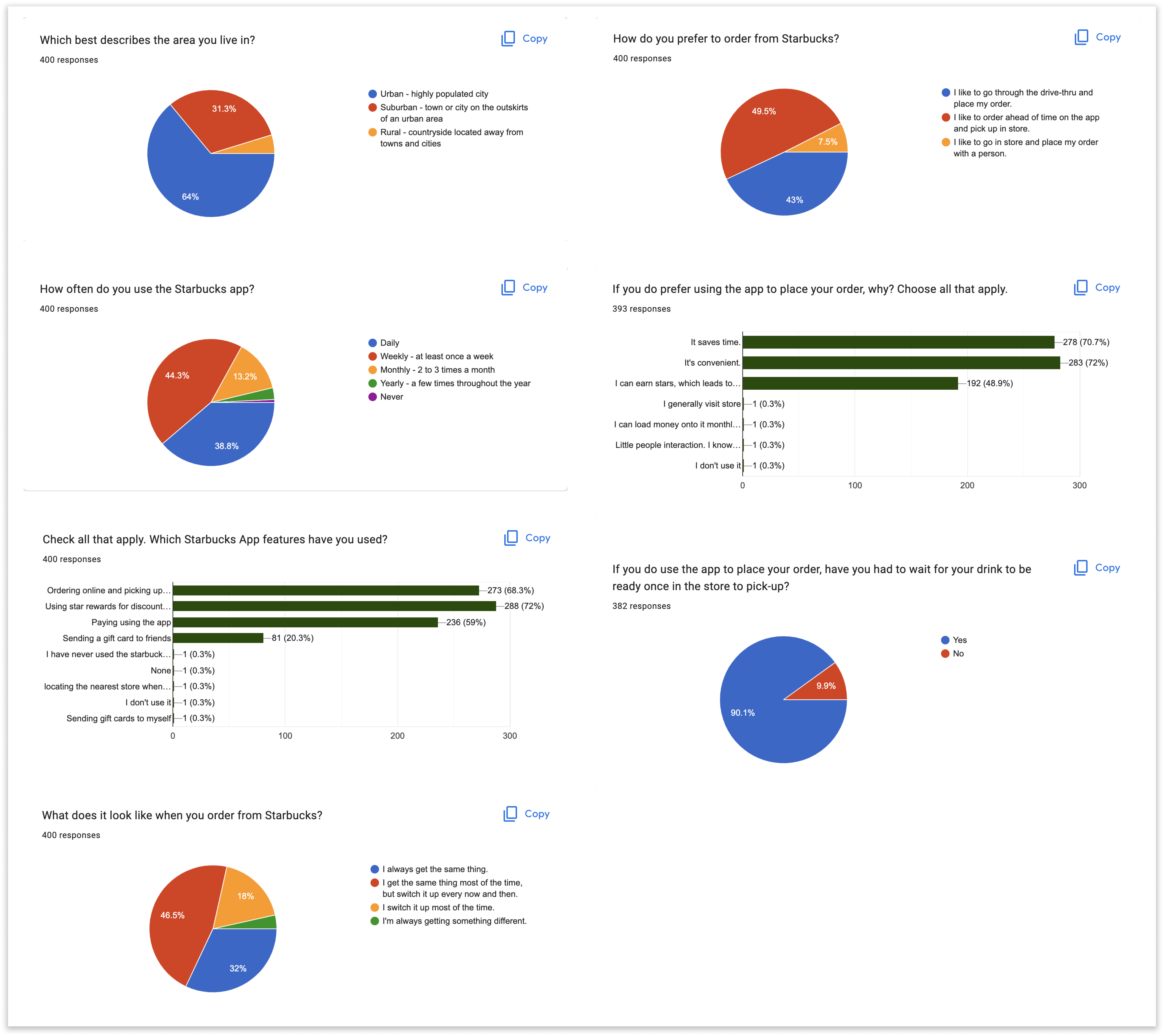 Survey
I began with a brief user survey to collect quantitative data to use when determining the viability of this feature and which features would need to be included as part of my MVP. I referenced this data numerous times as I was brainstorming ideas, creating personas, and building my feature set.
Key Takeaways
Over 90% of participants said that they still have had to wait for their drink to be ready once in the store to pick up. I wanted to see how many customers experience a delay when they place an order using the app.

89% of participants said that they either order the same thing most of the time or all of the time. I wanted to see what it looked like when user's order from Starbucks and if they are consistent with their choices.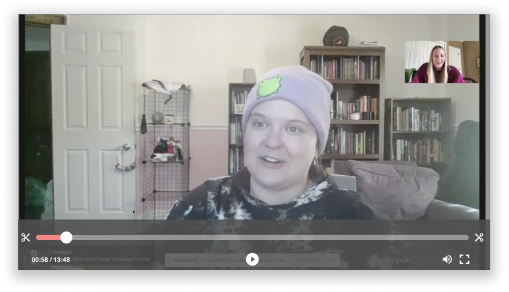 User Interviews
After conducting a survey, there were a few findings that I wanted to validate and clarify through user interviews to get a deeper understanding of customer's pain points, needs, and values surrounding placing an order through the Starbucks app.
These interviews gave me insights into people's behaviors and feelings that weren't revealed through my user survey and were valuable when creating my user personas and feature set.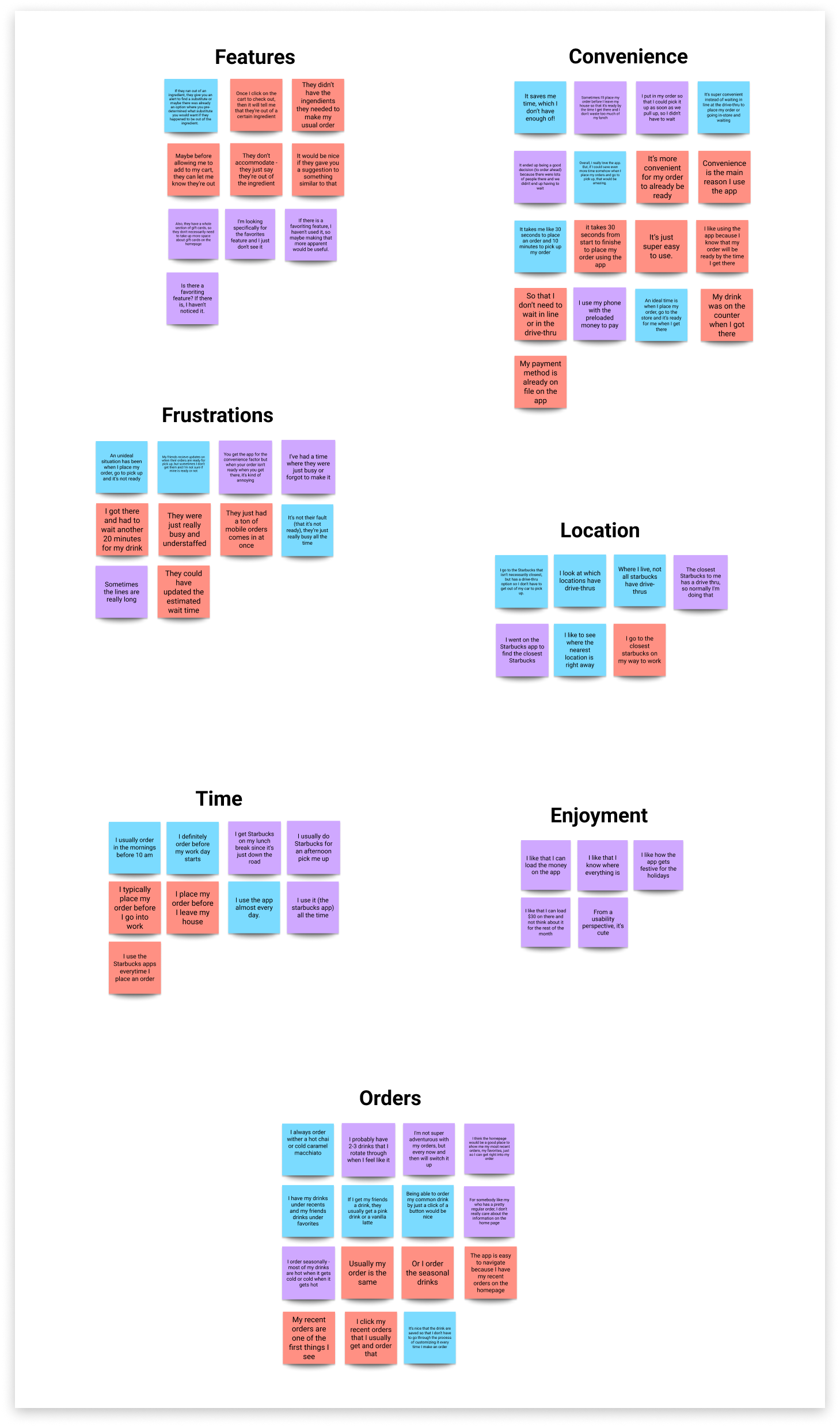 Affinity Diagram
With over 400 users involved in my research, it was essential that I organize my data into themes and patterns to highlight commonalities from users' experiences.
From my findings, I was able to synthesize my research into 7 main insights that represented what Starbucks customers valued or struggled with when ordering through the app.
Here are some important highlights and quotes I got from the activity:
"I usually order the same thing every time."

"I got there and had to wait another 20 minutes for my drink."

"I typically place my order before I go to work."

"I go to the closest Starbucks on my way to work."
User Personas & Storyboards
When first developing a user persona using empathy mapping, I noticed three main experiences. One from frustrated Starbucks customers who are concerned with time management and convenience, another customer who is understanding of the wait, but wishes there was an easier way for baristas to stay on top of the orders, and lastly, a barista's perspective on their day-to-day at Starbucks.
I decided to create 3 personas to more accurately portray each experience which would help me address all needs in ideation.
Three storyboards were created to better explain the common struggles of each experience. It also was used to reveal any possible opportunities for alleviating these struggles in future ideation.
Meet Cass
The Understanding Customer
Main goal: She wishes there was a way that will help baristas manage their time when making drinks.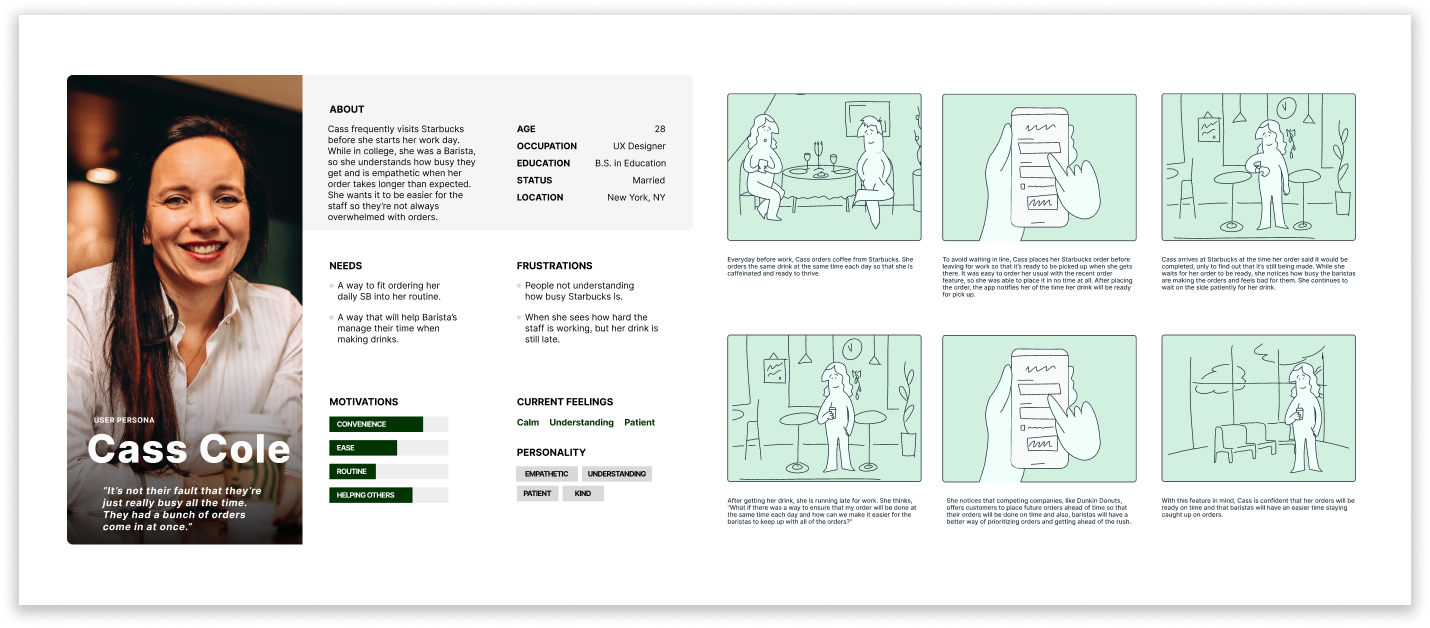 Meet Lee
The Busy Customer
Goal: She wants there to be a quicker and more flexible way to place her Starbucks orders and pick up on her way to the office each day.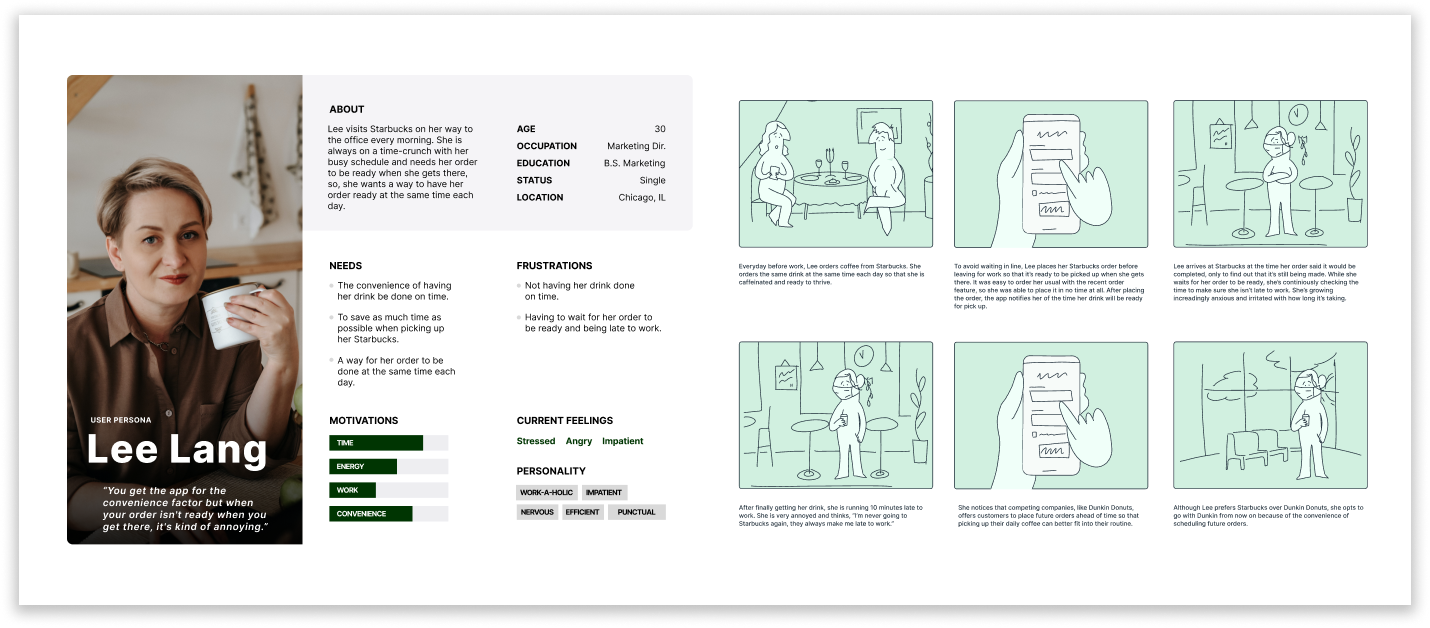 Meet Jo
The Overwhelmed Barista
Goal: He wants there to be an easier way to stay on top of orders and please customers.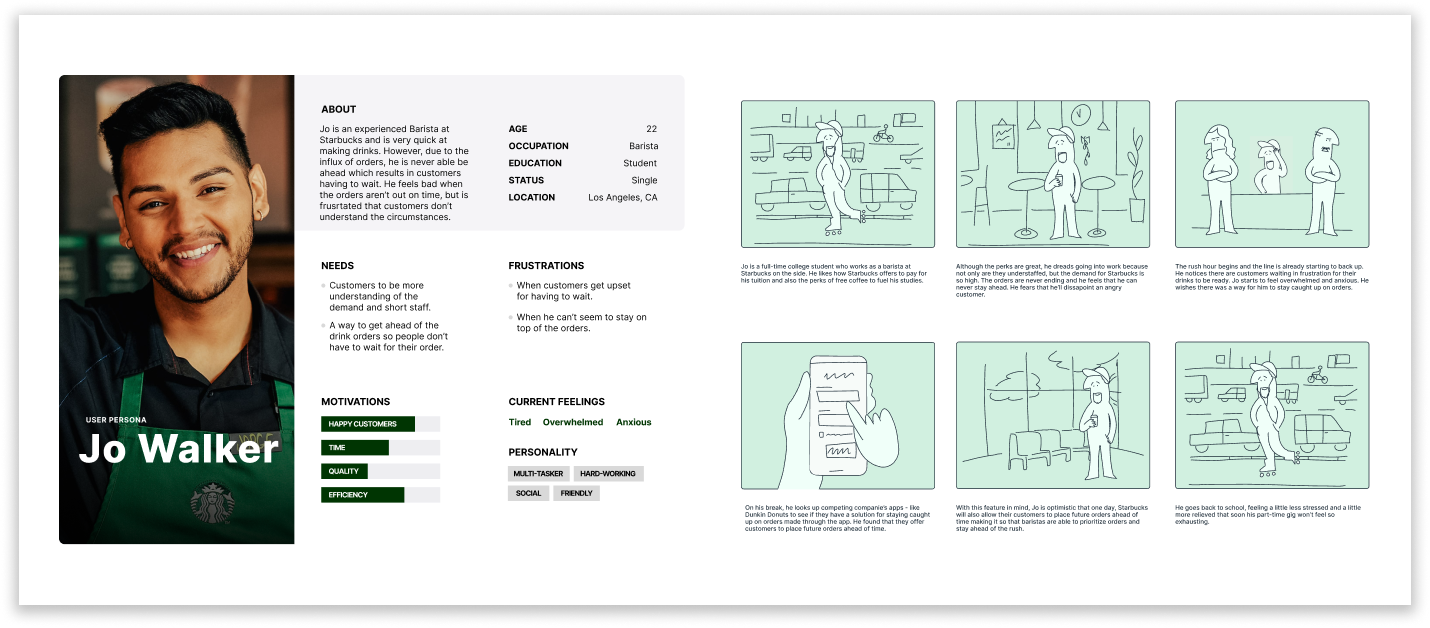 Prioritizing Features
The insights and data from user interviews helped me to ideate using How Might We structure to improve their experience placing an order using the Starbucks mobile app. These questions helped to guide my thinking and stay focused on solutions that could address customers' and baristas' motivations, and challenges and pinpoint what would bring them the most value.
Problem Statements
I converted the pain points into more detailed problem statements.
Needs to find a way to avoid unexpected wait times for their pick-up orders in order to save time when ordering coffee through the app.

Needs to find an easier way to fit their order, through the app, into their current routine to make their experience more convenient.
How Might We…
I then converted the Problem Statements into actionable 'how might we' statements to help keep me on track and focused on the main pain points.
How might we help Starbucks lovers avoid unexpected wait times for their pick-up orders made through the app?

How might we help Starbucks lovers fit their online orders into their current routine?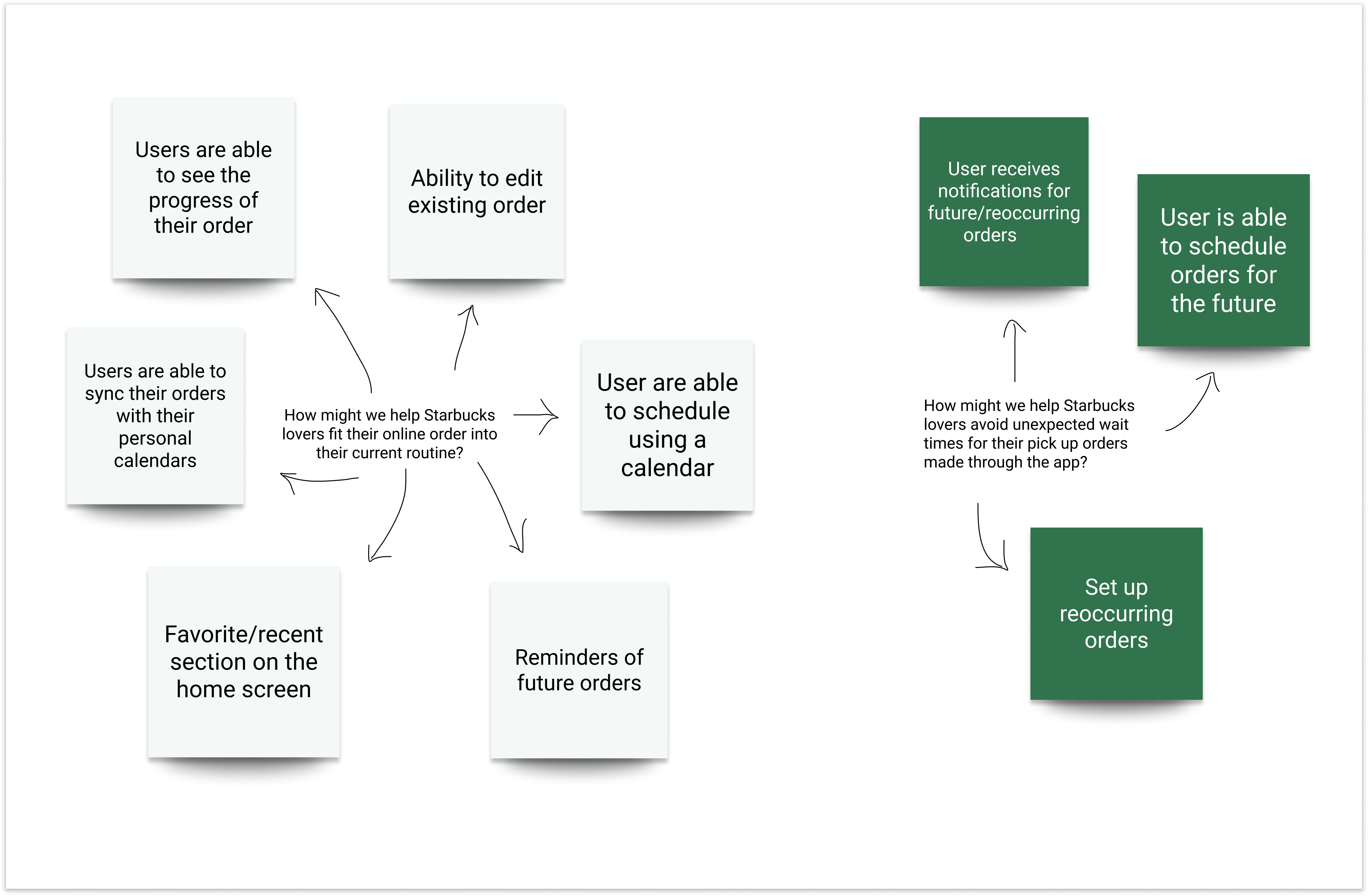 Brainstorming
Using the HMW statements as the framework, I began by completing a brainstorming exercise to inspire a variety of ideas.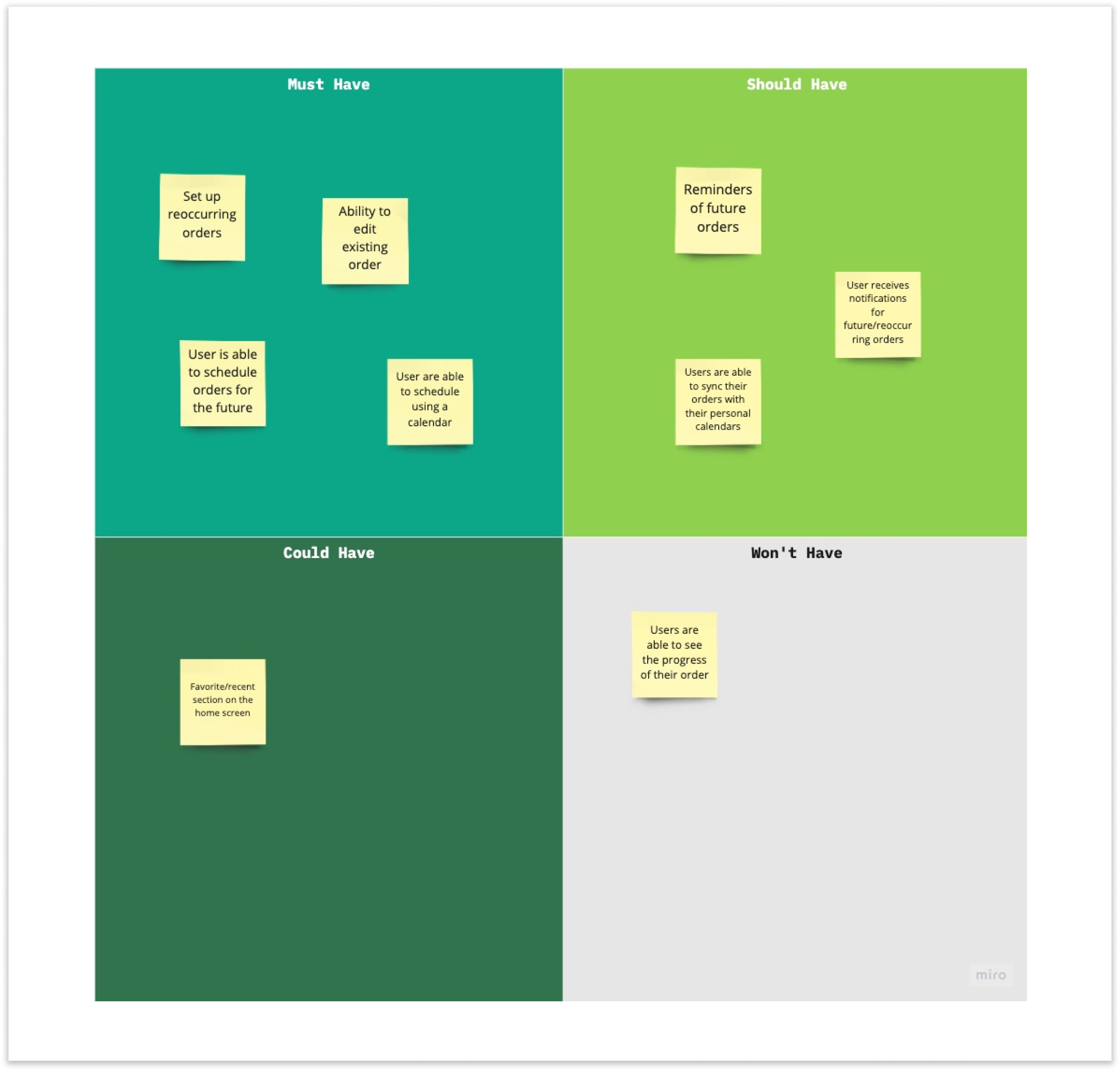 MoSCoW Method
I was now ready to dissect my ideas in order to prioritize features that would ultimately form the MVP. I applied the Moscow method in order to filter these ideas into Must-have, Should have, could have, and won't have. By combining the impact vs effort and Moscow method I was able to visually see the impact an idea would have and how much effort it would take to implement.
Chosen Feature
A feature that allows a Starbucks user to place a future order ahead of time and also, the ability to edit, cancel or set an existing order as reoccurring so that they can save time and fit their online orders into their current routine.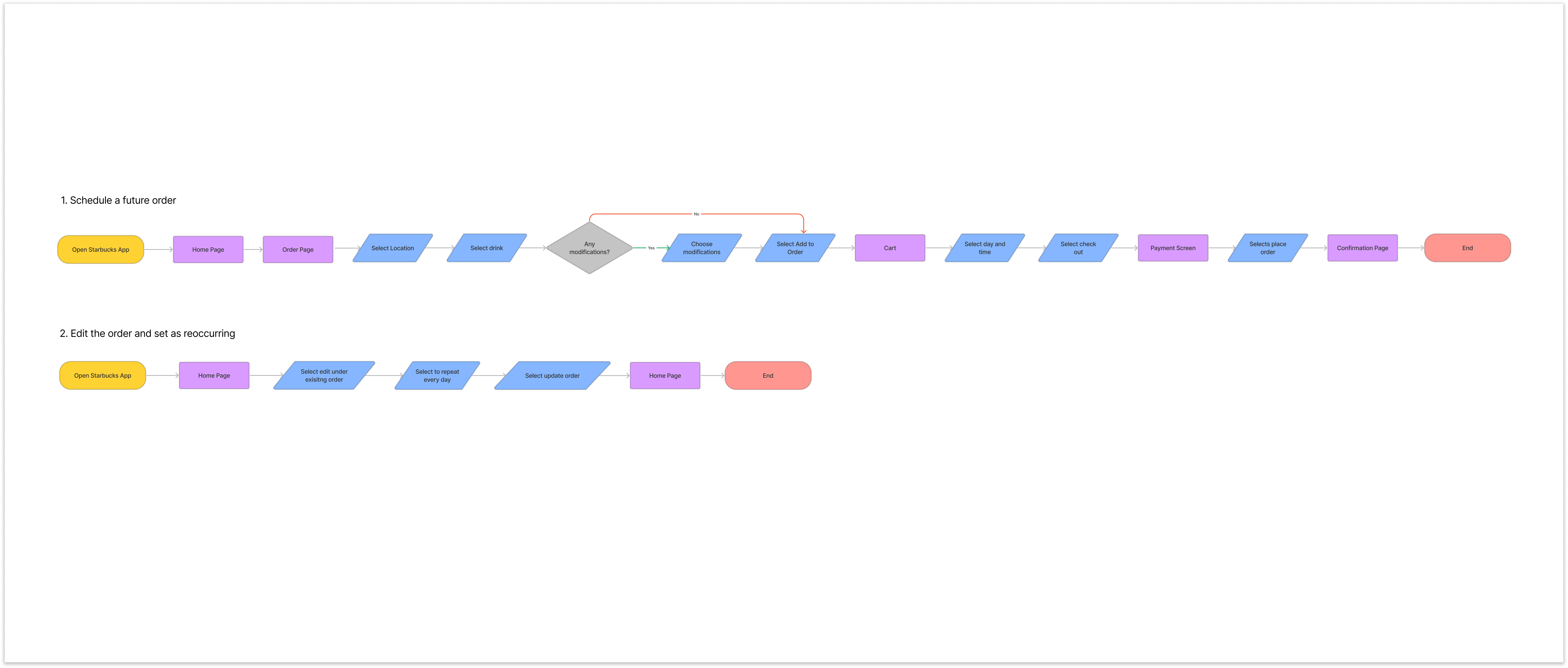 Task Flow
I first created 2 main task flows. This helped me create a system that would be simple and integrated into the existing platform.
Schedule a future order.

Edit an existing order and set as reoccurring.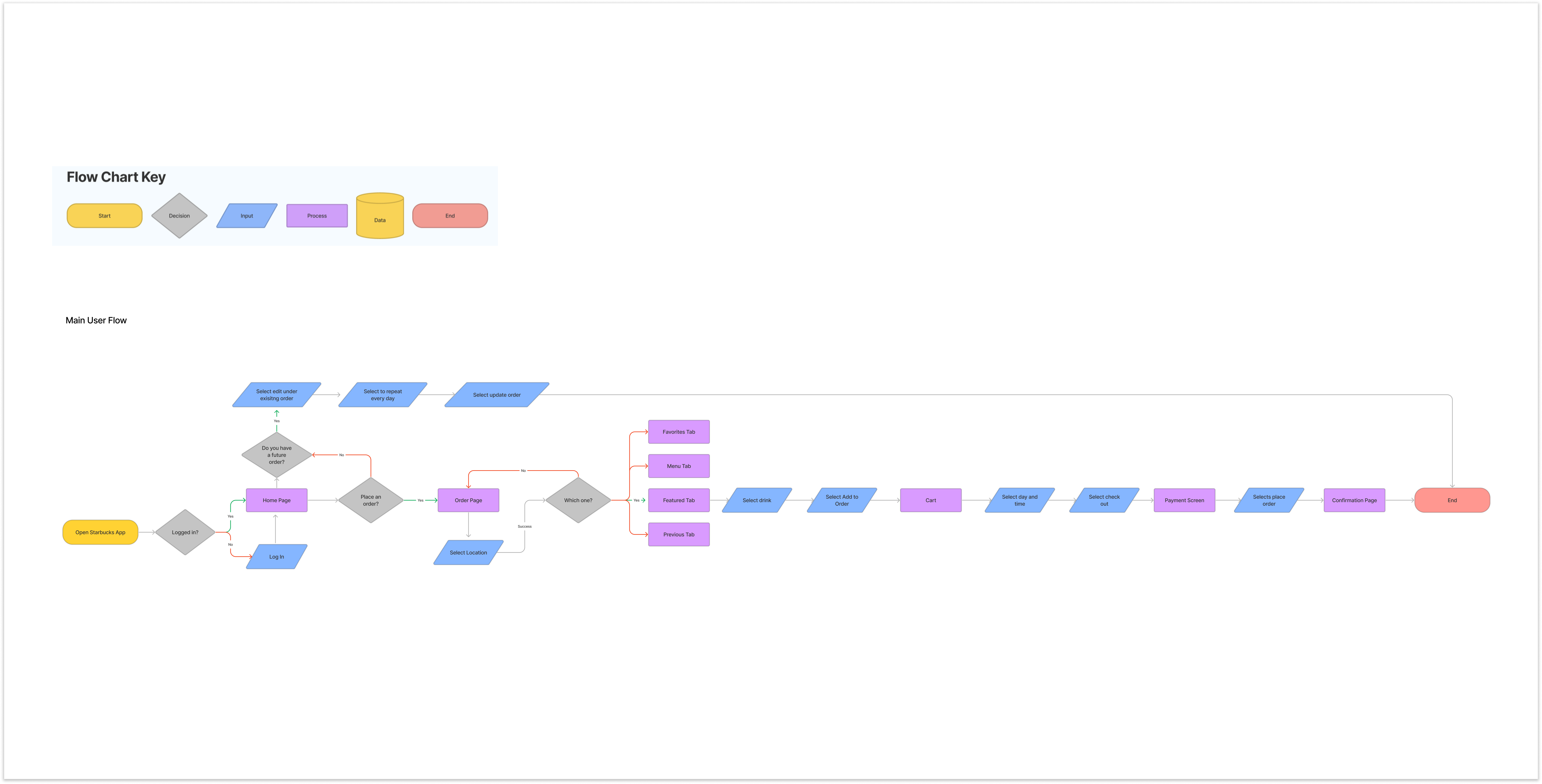 User Flow
A high-level user flow was developed using the research insights and findings from the initial research and discovery phase. I decided to keep the usability focused on the scheduling portion to enable users to place a future order. It allowed me to visualize the structure of what an experience would need to provide to satisfy user needs.
These flows determined what screens I needed to include in my wireframes and prototype.
Wireframes
I completed a visual audit of the Starbucks app to study their design system to make sure I was purposeful about how I would include the added feature within the existing product..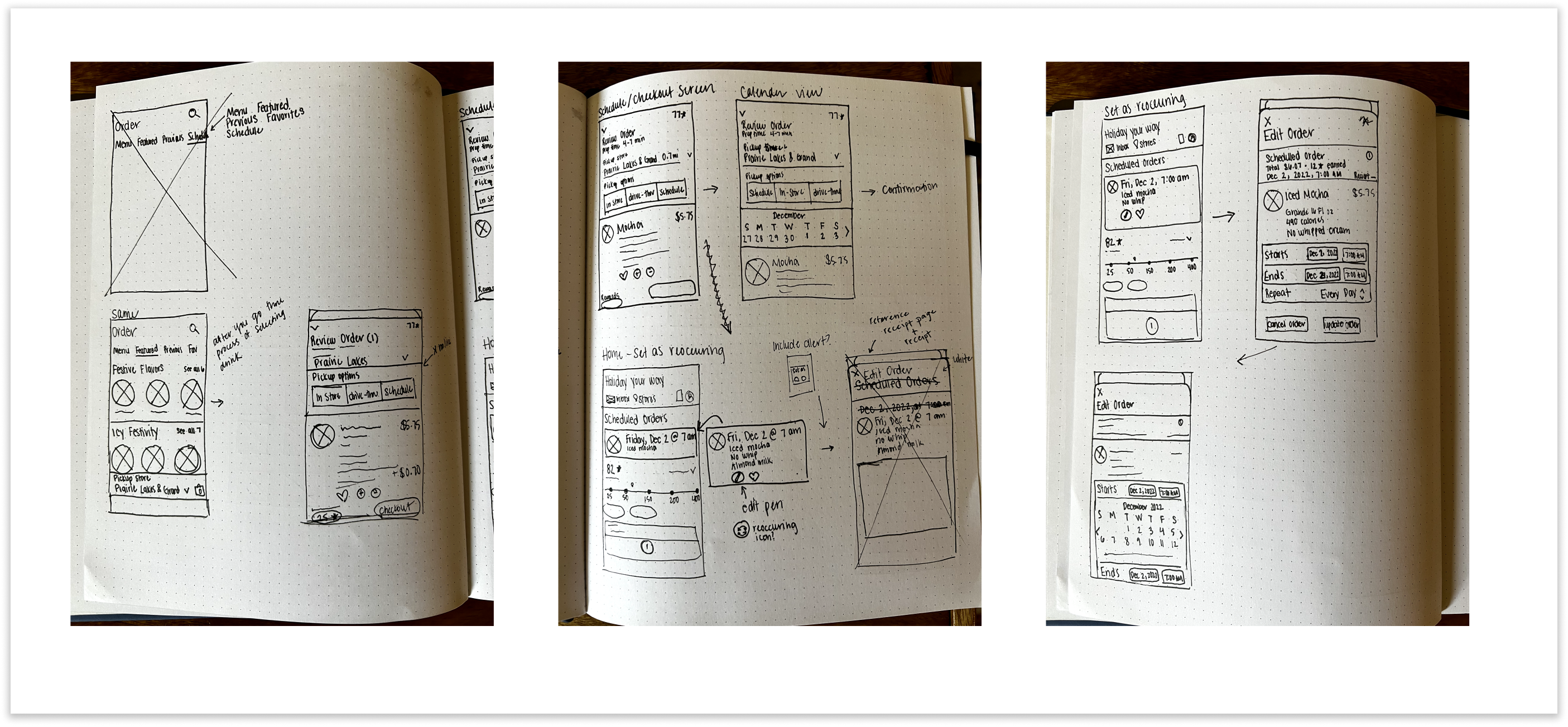 Final Product
Introducing Recurring and Future Orders
Do you need your caffeine fix before you start your day, but you're crunched for time? Well, with Starbuck's new feature to schedule a future order, you can skip the unexpected wait times and start your day off right!
Need to change your order? No worries. You can edit your existing orders and even set them as reoccurring to accommodate your current routine.
Designing the Interface
To integrate the look and feel of the Starbucks brand with the use of atomic design inventory a set of visual styles for the core components for the interface was developed. In addition to picking up the core styles of the existing app, several components and styles were created that were unique to the scheduling feature. The prototype demonstrates a user placing an order, a week ahead, to be picked up at their favorite location.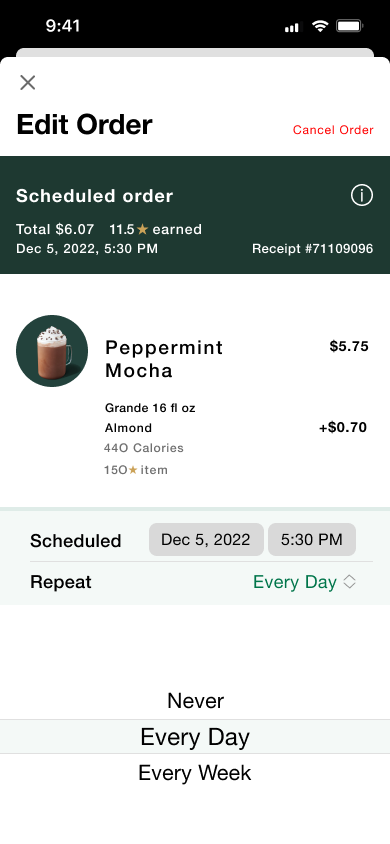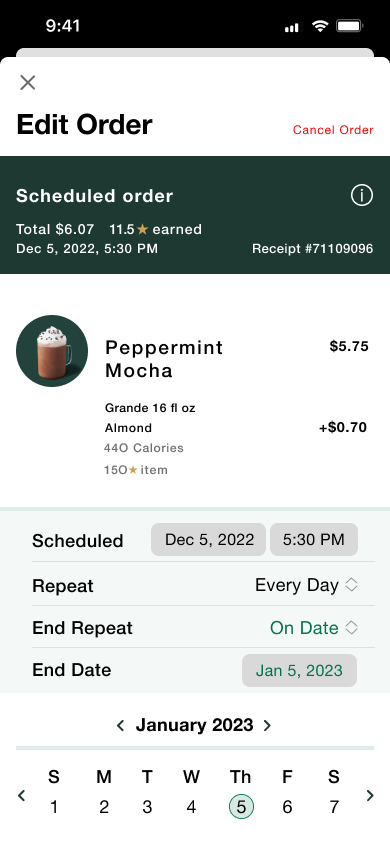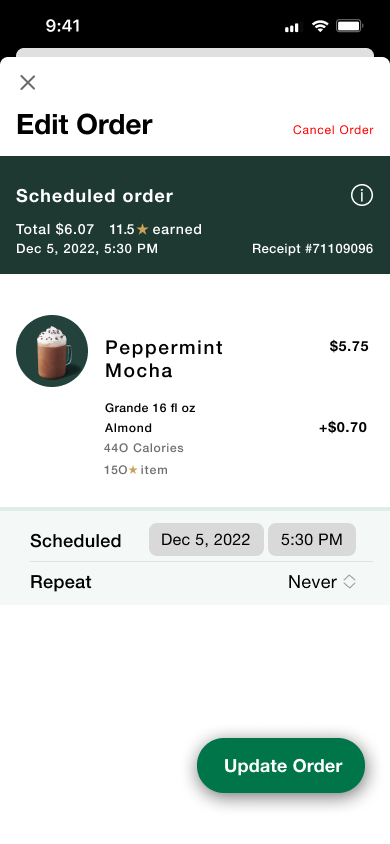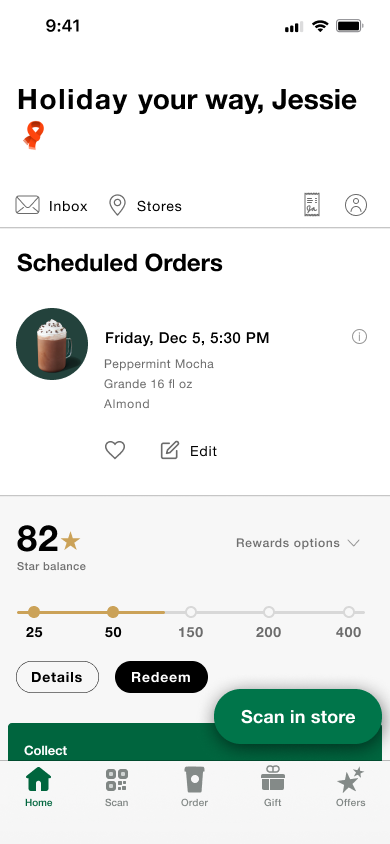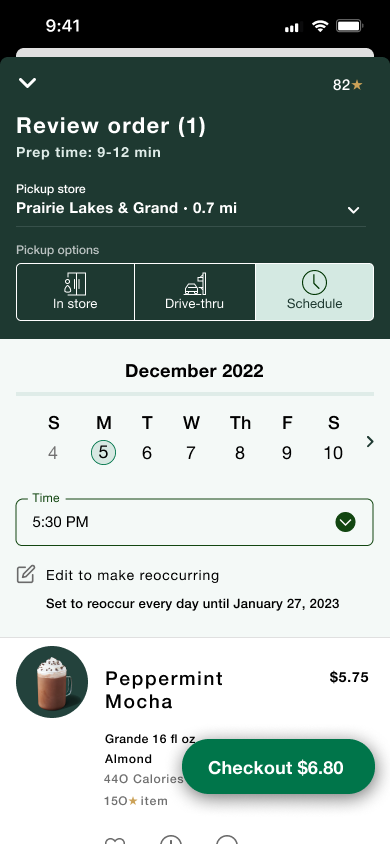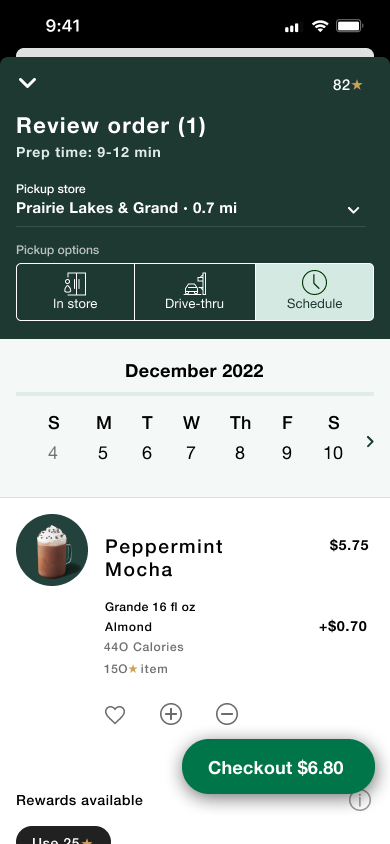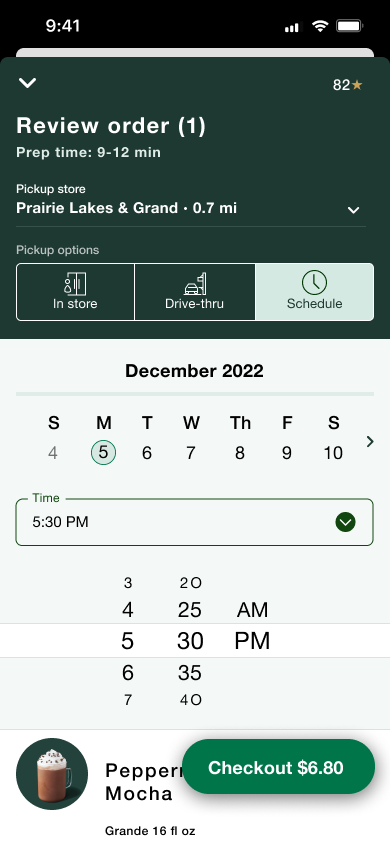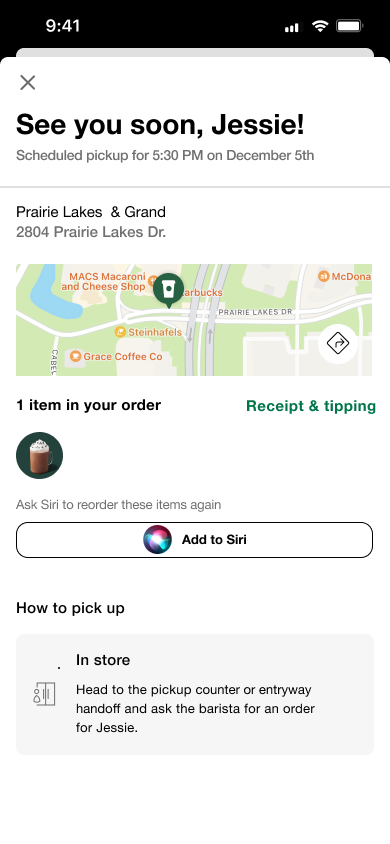 Tasks
Schedule a future order
Edit existing order to set as reoccurring
Participants
Starbucks Users
10 Participants
Seamless
"The option for ordering ahead was clear to see. The times and dates were easy to toggle. It was fairly seamless."
Intuitive
"The tasks to schedule a future order and edit the order to be reoccurring was pretty intuitive."
Helpful
"I think this addition to the Starbucks app would be super helpful! I would use this in real life."
Ease
"After doing it once, it becomes pretty easy."
Needs Improvement
The trouble users had was pretty unanimous, so I felt confident about which areas to revise.
I compiled feedback on my affinity map and then mapped the improvement opportunities on an effort and impact matrix, which helped me determine which revisions to prioritize.
Overall, users were able to complete the two tasks successfully. However, there were still a few areas of improvement noted. The results from the usability tests showed that a majority of users wanted the option to set their order as reoccurring during the initial process of making an order. They also noted some confusion around the ability to set an end date for a reoccurring order.
Even though users were able to complete the tasks, I updated the screens so that the end date option was less confusing and gave them the ability to set an order as reoccurring during the initial order process.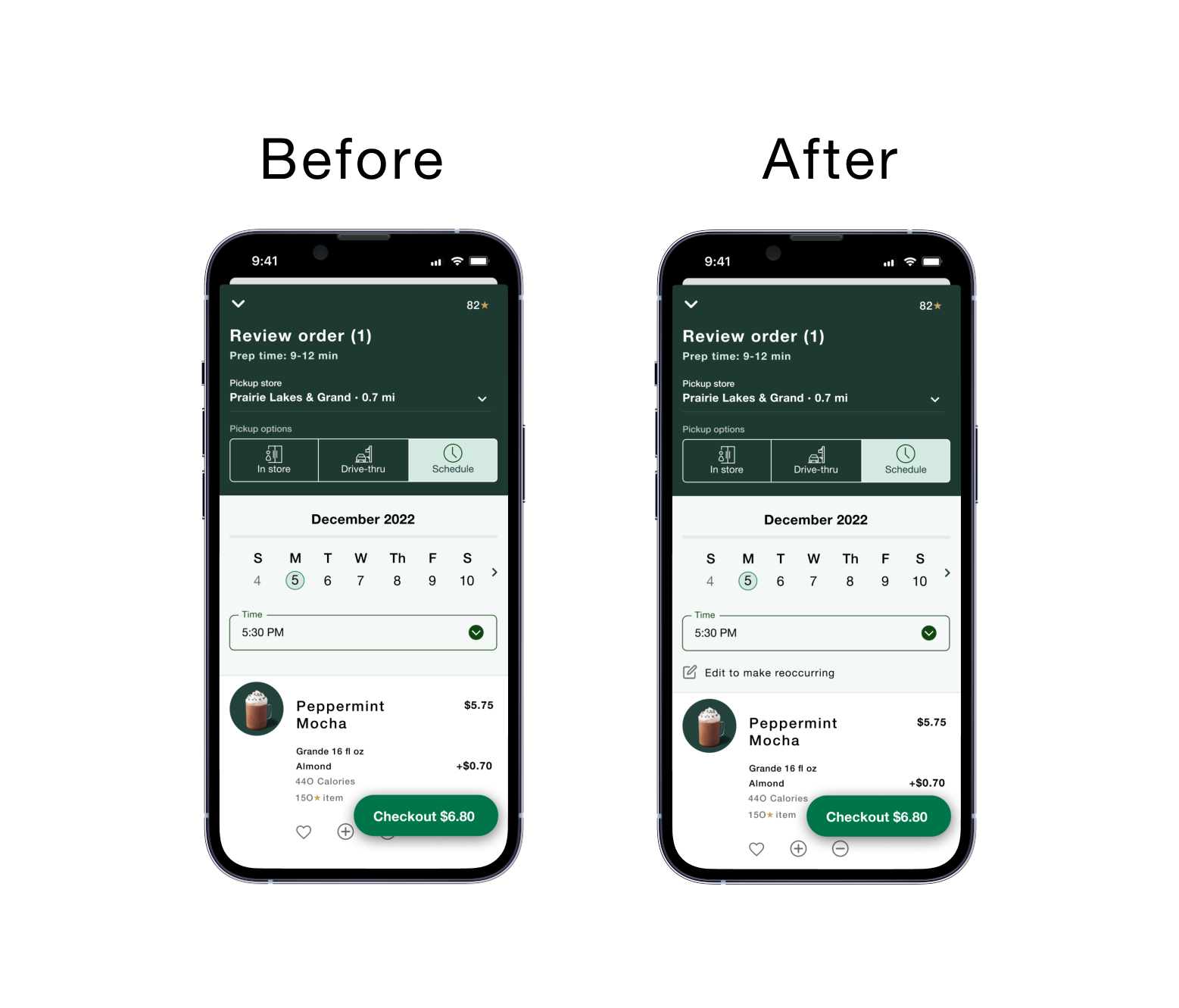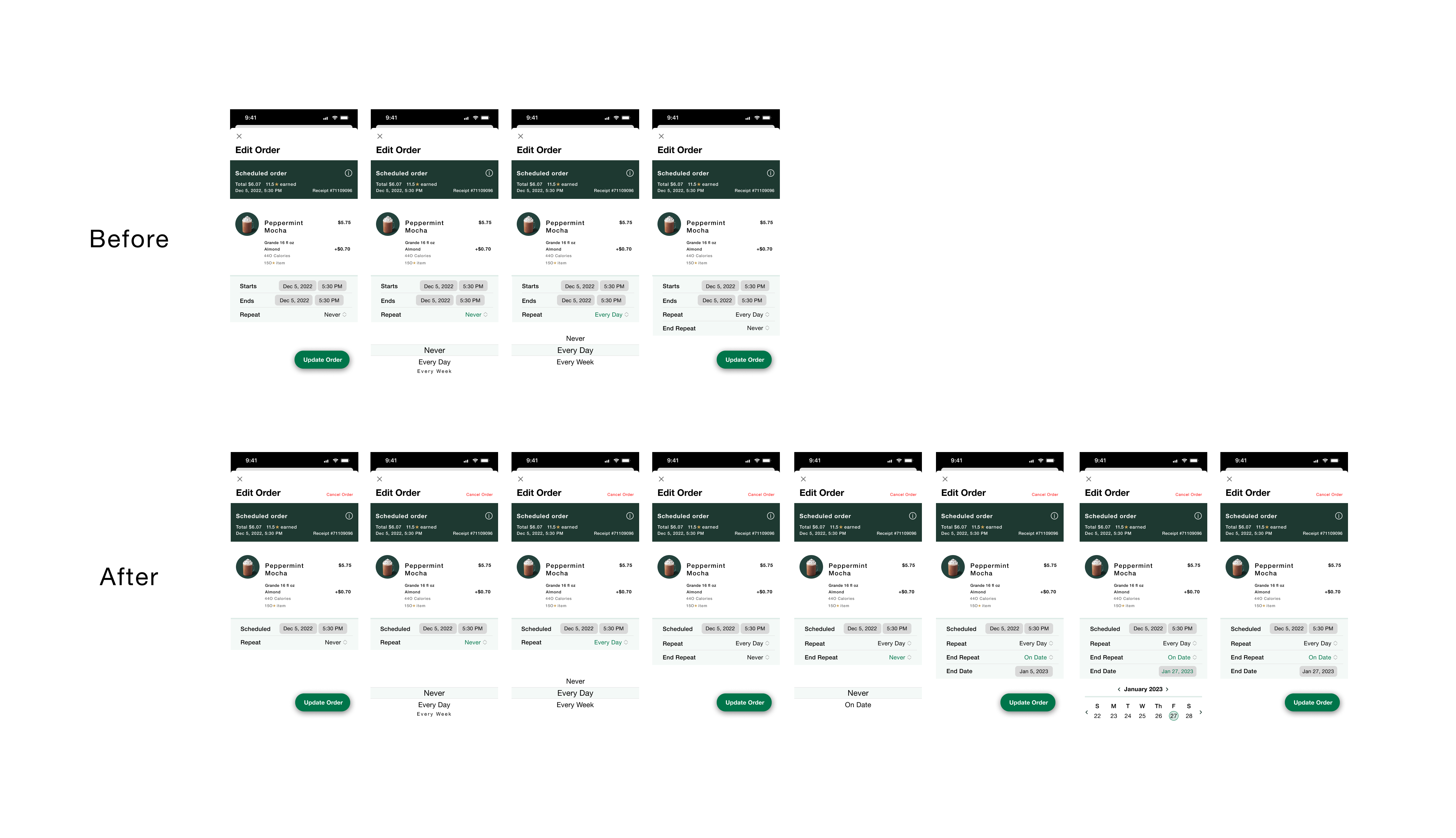 Takeaways
In the beginning, it can be easy to think you have the perfect solution to solve a problem when you identify as a user of the product yourself. I had to challenge myself to be open to hearing about the problems and experiences of others to know if my perceived problems were even relevant to the primary users and what other possibilities were out there. Innovation does not come about by diving straight into your first idea.
Next Steps
User testing
Adjust the prototype and continue with another round of user testing to analyze changes made to the original design and check for improvements in click rate and time spent on each task.